Grow Your Podcast. Increase Your ROI.
Get started by joining the Scrappy Podcasting Newsletter.
Each week, we send one (often unconventional) marketing idea to help you create a better show and accelerate your growth.
Trusted by 4,500+ growth-oriented creators, marketers, and founders from brands like:

Podcast Marketing Education for Serious Creators, Brands & Marketers.
You're a professional, not a hobbyist. You know the value of podcasting and you're committed for the long-haul. You don't have time to waste on pseudo-experts giving generic, surface-level marketing advice you can find anywhere.
Our courses are rigorously designed to get you results with proven marketing strategies, frameworks, and playbooks.
Our growth membership gives you on-demand access to everything you need to grow your show, including our in-depth curriculum, step-by-step marketing playbooks, weekly coaching calls, a community of growth-oriented podccasters, and more.
Designed to grow alongside you, the growth program is constantly being updated with new strategies, playbooks, and resources to support you on an ongoing basis.
Our Accelerator Program is a high-intensity 6-week sprint where you'll rapidly build out your show's growth engine in a supportive, interactive group setting.
Designed specifically for shows with fewer than 1,000 dl/ep, the Accelerator's in-depth curriculum, hands-on assignments, and extensive group feedback, the Accelerator will challenge you to think deeper and more critically about your show and your marketing than you have yet while refining & crystalizing your strategy.
Identify the Gaps in Your Strategy
Start with our free two-minute assessment to identify the gaps in your marketing that are keeping you from growth.
Plus receive a personalized roadmap of what to do to fix them.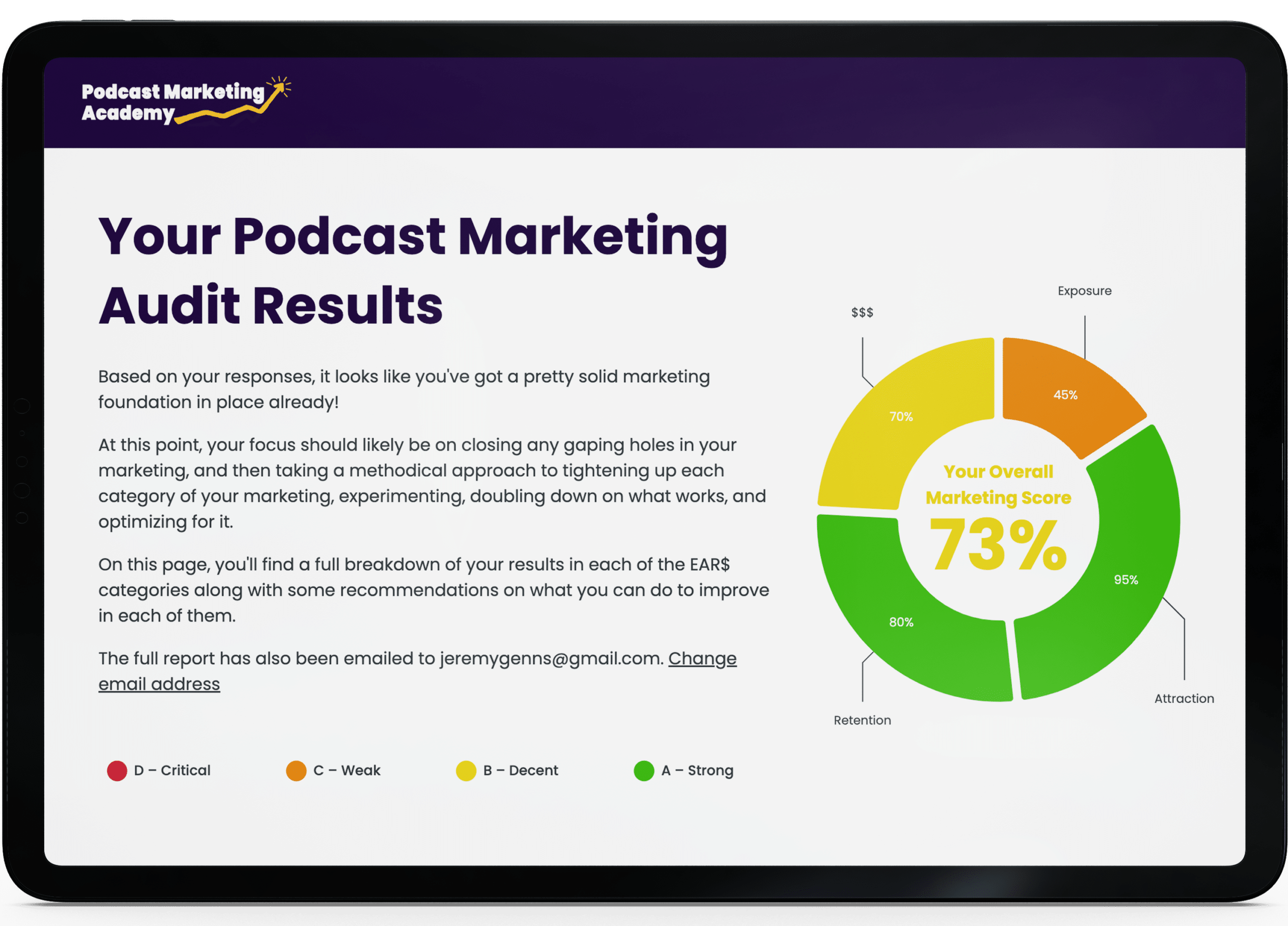 Our roadmap for ambitious hosts, creators, and marketers looking to create and market high-growth shows.
Our roadmap for niche shows with less than 10k subscribers looking to land high-value sponsors at 20x industry average rates.
Stop Guessing. Start Growing.
Start with a curated collection of our most helpful podcast growth & marketing resources. 
Subscribe to the Scrappy Podcasting Newsletter
Subscribe to get one scrappy (often unconventional) marketing idea per week that you can read in two minutes or less.
Join The Growth Membership
Level up your marketing abilities, accelerate your growth, and increase your podcast-driven revenue with ongoing access to our full collection of podcast marketing training and playbooks, designed to meet you where you're at and help you get results.
If you're looking for personalized growth support, we offer in-depth podcast & marketing audits, custom growth plans designed around your show, team training, 1:1 consulting, and more.