Doone Roisin is the host of Female Startup Club, a podcast for female founders and entrepreneurs with a focus on direct-to-consumer startups.
When she enrolled in Podcast Marketing Academy in April 2021, her best description for her show and the processes around it was as "definitely a little Frankenstein-esque".
She'd been producing her podcast for a year and a half and was consistently getting 200-300 dl/ep, but she had bigger ambitions.
Specifically, her driving goal was to join the HubSpot Podcast Network.
The problem?
When she'd met with them initially, they told her they were only considering shows with at least 10k downloads/month.
To get there, she knew she needed to reassess how she was approaching her podcast and the marketing around it.
I was doing all of the best-practice, basic stuff for growing organically on social media.

​I was looking for like things that I just didn't know that I didn't know. But I didn't know what that was, whether it was workflows or just like small tweaks that could potentially help.
Within the first few lessons, the lightbulb moments began.
Really early on, I just remember being like, 'Oh man, I like really need to go back to my foundational stuff.'

When I started, I jumped straight into the podcast and I never considered any of these kind of foundational marketing pieces, so it was so helpful to go back through and rethink things more strategically.
In addition to rethinking the strategy around her content, show structure, show copy, and positioning, Doone put a major emphasis on building out an incredibly distinctive brand.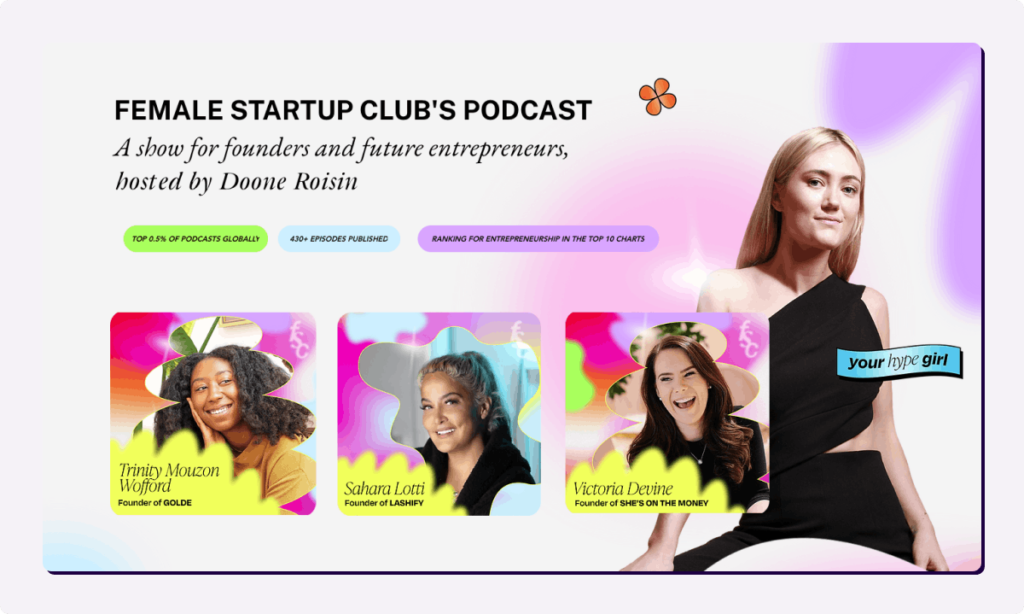 That's When Things Started to Take Off
Not only did the unique branding stand out and attract attention from listeners, it also became a magnet for guests, who were eager to be associated with the brand and began sharing the podcast regularly.
Within 6 months, Female Startup Club was regularly bringing generating more than 15k dl/ep.
And the next time she approached the HubSpot Creator Network, they eagerly welcomed her aboard.
That was one of the things that I had hoped for, and was a big part of what success would've looked like for the show, if I looked in hindsight.

I'm excited to take it to that next level with this kind of thing with guest interviews and cross promos with people like Jenna Kutcher and the guys from My First Million and that kind of thing.
The Downloads Were Just the Start, However
Since then, Female Startup Club's trajectory has only continued to accelerate upward.
Not only has Doone racked up more than 5 million views on TikTok and built a 19k subscriber newsletter, she's had a few other juuuuuust kind-of-maybe-a-big-deal wins…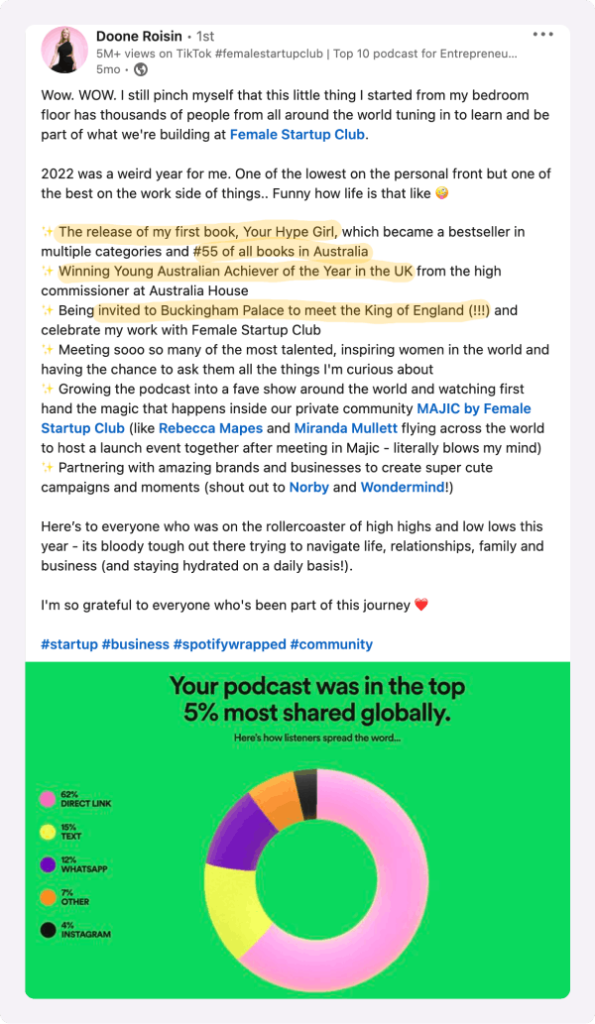 Along the way, Doone and the Female Startup Club Podcast have been featured regularly across a variety of notable publications including Refinery29, Arianna Huffington's Thrive Global, and even her first live TV appearance.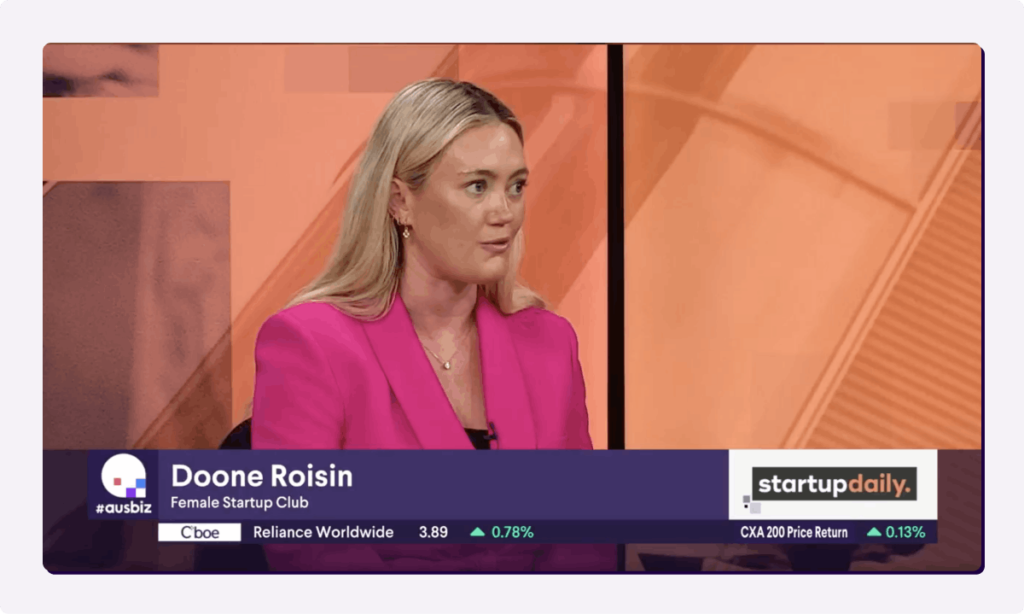 Building A Content-Driven Media Business
Today, Female Startup Club is thriving not only as a podcast, but also a content-driven media business.
Which is a far cry from when Doone joined PMA.
I came into podcasting really naively, like, 'Oh, I'm just gonna start a podcast,' and then realize like, 'Oh, this really costs money'.

[PMA] gave me this really good perspective of how podcasters operate [from a business perspective] and what the actual format is.

I got really clear on like figuring out like, 'Okay, I need to seriously work out what my offering is,' and how to make this podcast work for me financially because I truly love it and I want to keep doing it.
When thinking back on her experience going through Podcast Marketing Academy, Doone shared:
It just exceeded every expectation. Like it's a hundred percent the best course I've ever seen. Like for sure.

I just wasn't expecting how deep everything would be, like every module and the homework and all that kind of stuff.

If I had to describe it to someone, I would just say, bottom line: This is what you need.

It's the most in-depth course that I've seen on the internet that really gives you a strong foundation and blueprint and approach to creating a successful podcast.

Plus, for me personally, you just want the brain power from the person who knows. And so you already do a really great job with the course and the templates and all those things. But the cherry on the cake is having access to you through the weekly calls and through the one-to-ones.

You should definitely price it a lot higher.
Make no mistake, Doone is incredibly savvy, works incredibly hard, and has developed a crystal clear vision for her brand.
Your path will look different than Doone's.
For one, it probably won't involve meeting the King of England (hate to break it to you).
But the results she's had by focusing on building an utterly distinctive podcast and brand as the foundation of her marketing perfectly illustrates the possibilities that can come from applying what we teach inside Podcast Marketing Academy.
If you're ready to build out the marketing foundation that will unlock the potential of your podcast, I'd love to help you do it.